Introducing New Ways to Serve Japanese Green Tea by Pearl Dexter
This article is from the Tea & Coffee Trade Journal (July '2011). This publication contains many interesting articles on both tea and coffee. It is a great place to learn about tea and the growing regions.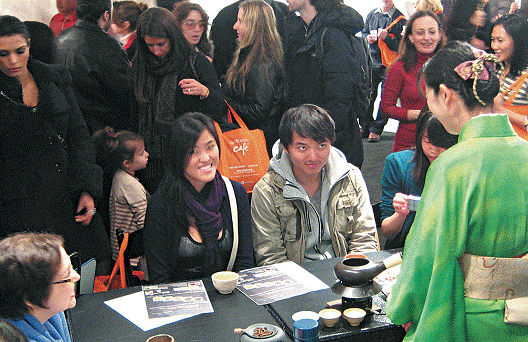 Japanese Tea Instructor and author, Ako Yoshino, invited me to work with her to come up with some contemporary ways to serve Japanese green tea. We presented 4 New Ways to Enjoy Japanese Green Tea at the Coffee and Tea Festival in February 2011. The concept was so popular that we had to take reservations for the 20 minute demonstrations. The presentation took place again at the Nippon Club in Manhattan on July 14.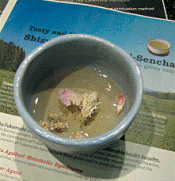 As most readers will know, tea is a sensual product that engages smell, touch, and taste. Ako and I wanted to introduce to the American market especially a less traditional style of taking Japanese green tea.
She, of course, maintained the spirit of Zen for the traditionalist. Secondly, she re-introduced the ancient tea contest that the Japanese aristocracy participated in during the 15th century—Cha-Kabuki. For those who want to have their tea portable, she created the cute Kawaii style of taking tea. Finally, for the tea connoisseur, Ako wanted the tasters to experience the full aroma of the tea leaves with the option to add flavorings in the second and third brewing of the Aroma Tasting.
Japanese green tea comes from the same plant, but it is the processing that produces the different types of tea. These 4 New Ways to Enjoy Japanese Green Tea takes Japanese tea drinking to another level yet makes it convenient for our diversified American consumer.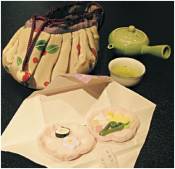 The Zen Style embodies the spirit of Zen, maintaining the traditional method of preparing
sencha
or fukamushi- sencha, and houji-cha. Ako believes that this style creates tranquility. Using one teapot (yuzamashi) and two small handleless teacups (yunomi) the tea is poured slowly and gently into each cup. With subsequent brewing the water temperature may be lowered and the steeping time is shortened.
Cha-buki is a contest that refines the skill of expert tea tasters. The game begins by tasting and comparing two different teas at the same time. Tea drinkers with a more sophisticated palate would pair sencha and gyokuro, or sencha first flush and sencha second flush, or sencha and kukicha, or two different blends of fukamushisencha. For the novice the pairings would be less complex: sencha and fukamushisencha, houji-cha and genmai-cha, or fukamushi-sencha and genmai-cha. Chabuki Style is ideal to enjoy while having a light healthy meal.
Kawaii in Japan represents all things cute. The Kawaii Style of Tea is a perfect introduction to someone interested in tasting and experiencing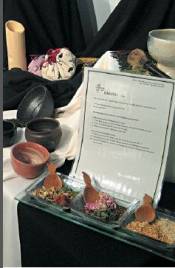 Japanese green tea. A small silk pouch or tea box holds a tiny teapot and handleless teacup so that the tea drinker may carry it to work or just to visit friends. Brewing can be done with cold or hot water. Yoshino selected a choice of gyokuro, sencha, or fukamushisencha for the cold brew, and only fukamushi-sencha for the hot brew.

I found it interesting that Ako Yoshino incorporated the four most important elements of the tea ceremony with each of the 4 New Ways to Enjoy Japanese Green Tea. She chose "purity" for the Aroma Style. Brewing the first tasting with just the pure processed leaves gives one the fresh taste you should experience before adding any flavoring. In New York we used a variety of dried flavorings, dried fruit and spices: rose petals, mint leaves and some exotic Japanese dried orange.

The Aroma Style has a second aspect that truly engaged all the senses – roasted tea. She took some very green kuki-cha and roasted it lightly in a lidless aroma pot over an electric hot plate, turning it slightly with her wrist for a few minutes. This is a particularly good way to restore the aroma and taste to a not so fresh tea. Yoshino employed those four elements of the tea ceremony. Her traditional manner gave new life to Japanese green tea. These four styles of tea may add harmony, tranquility, purity and respect for this venerable beverage. There are no rules, so just follow you nose and enjoy!